(a story detailing my own selfishness, pride, and forgetfulness during a time of forsaking God, following my own way, and suffering the consequences)
I don't want to be selfish, but, rather, selfless,
offering my back to those who strike mine with the cat-o'-nine-tail whip, (John 19:1)
and my cheeks to those who'd tear out the hairs of my beard with their [bare/bear] hands,
neither hide my face from their spit, coarse jesting and contempt, (Isaiah 50:5-6)
neither turn back like Lot's wife, or be rebellious, (Genesis 19:26)
lest I be fishy and no one buy what I say like a salesman,
a salesman who goes door to door ringing doorbells
trying to sell doorbells on sale quick,
ignoring the voice inwardly, telling myself, "quit!"
conscience seared like salmon well-done, (1 Timothy 4:2)
all the while spiritually smelling like I sell fish,
[I/eye] on the grill left unattended, replaced cause I melted it,
feeling burned having heard "FIRE!", and smelled stench.
Neither do I want to be injected with hell's venom, (Luke 10:19)
having been stung with death's tentacles, (1 Corinthians 15:55)
I in the vice-grip of the man-of-war jellyfish, (Job 6:23a)
red skin from [said-venom/said venom], having it swell and itch,
throbbing pain radiating up the leg and hip
like I was giving birth to a set of twins.
With the sketchy ones pencil I was drawn away into the sepulcher, (James 1:14 + Psalm 5:9)
the stench-filled sewer, lust conceiving sin bringing forth death again, (James 1:15)
David having lain with Bathsheba having messes sent, (2 Samuel 11:4 and 8)
message sent to Joab to leave Uriah at the front like UPS delivering. (2 Samuel 11:14-15)
In the day of vengeance, miserable shall it be for the pregnant women, (Luke 21:22-23)
like those who can't run in the way of selflessness
because they're too full of themselves to sprint.
I should've remembered Glovedos (pronounced: Glow-vey-dose), even what the city of Brandon was, (Psalm 137:5)
and not be forgetting the lost, rather be for giving to the lost, (Galatians 2:10 + Deuteronomy 15:8)
forgiving the lost, not be for getting lost, thus four or more getting lost,
neither be one of the 99 who left the [one/One]. (Luke 15:4)
I forgot the law of my mother said to Lemuel, (Proverbs 31:1-5)
and how God through me wrote, "from junkfood to vegetables,"
leaving the strange woman's house, covered in the smell of perfume, (Proverbs 7:17 and 27)
[I was/eye was] like the bottle where the fly on the wall met it's end, (Matthew 6:23 + Ecclesiastes 10:1)
left with crust of bread, Head above the clouds like a crescent moon, (Proverbs 6:26)
and fell hard for her when I came down like I fell from heaven too, (Enoch 7:1-2)
not about my Father's business, when I should have been at the soup kitchen, (Luke 2:49)
following after the knock-out, and ending up with a tooth missing, (Proverbs 25:19, Proverbs 6:33)
(thus missing the wedding supper.) (Matthew 24:40)
having fallen for pride, double-crossed, set up for destruction, (Psalm 7:15)
having heard the Word, but not done it, which is self-deception, (James 1:22)
looking into the mirror, walking away, forgetting what manner of man I was, (James 1:23)
having drunken damage and forgotten the Most Blessed's Instruction. (Proverbs 26:6, Proverbs 1:8)
No helmet of salvation on, I was like a deer with no antlers, (Ephesians 6:17a)
appearing as a defenseless animal, the elephant with no tusk, (John 19:5)
the hungry hippo full of vegetation and fruits, nowhere to run, (Daniel 5:4, 9)
stuffed sheep among spotted hyena, another predator's lunch.
Yet God still remembered me like I was Joseph and got me out of that wretched pit, (Genesis 41:14)
out of the lion's den where they devour flesh and skin, (Daniel 6:24)
where they break bread like bones, salt with savour on snails of the wicked, (Matthew 5:13)
God delivering me from every evil work and preserve me unto His heavenly kingdom. (2 Timothy 4:18)
Given a great job, I work from home, heaven, and get loads of benefits, (Psalm 103:2)
logos medicine, edifying men, on the battlefield like a vocal veteran, (Proverbs 12:18b, Ephesians 4:29)
administering it from far away like mobile messaging,
hardened hearts have no reception, (Matthew 13:15)
no bars like the whole town repented, (Acts 19:18)
wicked strongholds going down in demolition; (2 Corinthians 4:8)
[strip-clubs,/strip clubs,] wrecking them, (Jeremiah 1:10)
walls of Jericho falling with vocal weaponry, (Joshua 6:20)
scoring points for the Lord like Lebron in the fourth
and filling the basket with loaves of bread and fish, (Joshua 6:24, John 6:13)
entering His courts with praise, talented dancing like Les Twins, (Psalm 100:4b)
feet of God working better than Lil Buck's; yeah, even better than his,
for by Him I've been chosen. He picked me. He picked me up. (1 Peter 2:9, Psalm 91:14)
He picked me up in a firetruck;
in a Firetruck, pullin' in: loads of breaded fish. (Luke 5:6)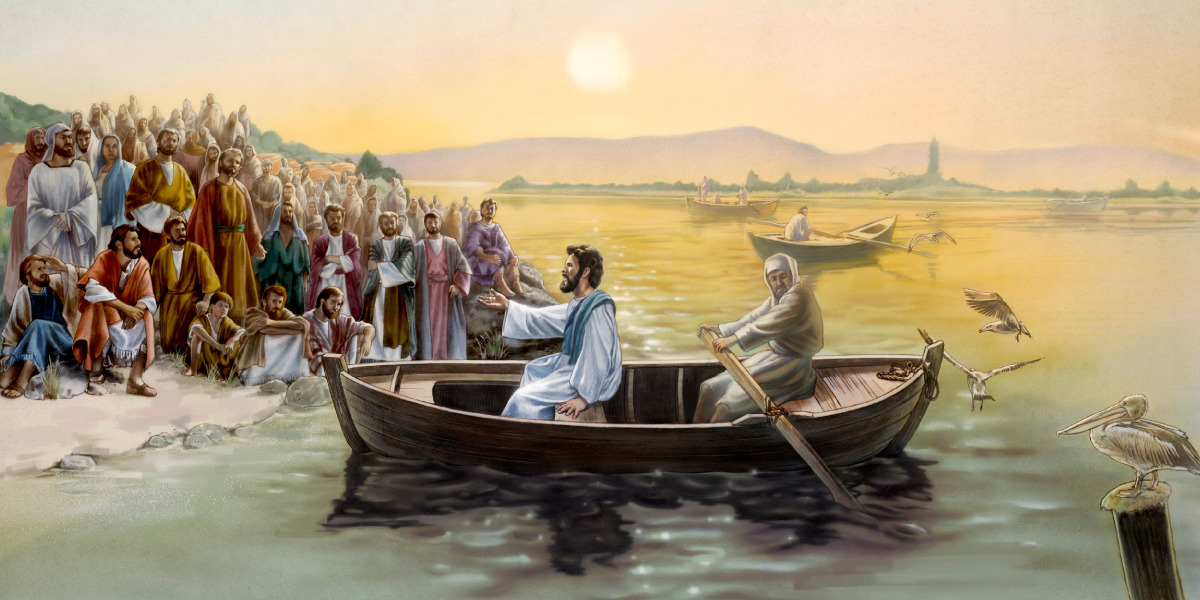 I want good dexterity and attention to detail like a welder,
my focus on the goal like that of a captain, [honor/on a] [fellowship/fellow ship],
for through the words of the [testament/tested Man] do I overcome the devil with, (Revelation 12:11)
my testimony: I was a lost sheep, found by the Shepherd-Spirit, (Luke 15:32)
God is the Director. I don't want to be [scene:/seen] begging for bread and fish, (Psalm 37:25)
lest I get … ["CUT"/CUT] and it sting like a scorpion,
for not following the Lord's [Super-Script, shin/Superscription], (Jeremiah 28:16)
hit with a [mega bite/megabyte] like a hungry man cocktailed-shrimp,
space eaten like the [GB's/Gameboy has/game-boy's) been lessened,
chunk of my [mussel/muscle] removed like mail from mailmen,
[sent/scent] like [mailmen/male men],
ending up in the mouth of the [terrier/tarrier], (2 Timothy 4:7)
Jonah in the whale's stomach, the belly of the beast. (Jonah 1:17)
I myself have been eating up space like I need to [downsize/down size],
like height, length, depth, width, having no care for the measurement,
doing whatever I want to like not caring for the management, (Isaiah 32:9)
eating whatever is in front of me with no care for the recipe, (Proverbs 23:1)
neither taking the time to see who was the chef that cooked, (Proverbs 23:1)
double-taking, eating thirds and fourths without a second look,
everything edible an ingredient I could make a sandwich with,
drinking the wine of violence, eating flesh between the bread of lust, (Proverbs 4:17)
when going into a restaurant, ordering, eating, and leaving with the rest of it, (Matthew 23:4)
waiters having waited coming, seeing I hadn't left a tip, (Matthew 21:19, Luke 17:17)
neither paid for my food, but left saying, "I'm blessing you,"
saying, "be ye warmed and filled," deterring them from Christ to my own detriment. (James 21:6)
A nervous wreck calling "shotgun" while Christ was in the garden sweating bullets, (Luke 22:44)
I having gone off to get bread, applying vinegar to the teeth of the samaritan woman. (John 4:8, Proverbs 10:26)
When it was in my hand I felt like He had passed the sop to me, soaked like a wet sponge, (John 13:26, Matthew 27:48)
for I had betrayed Him like Judas, the son of [Iscariot/a-scary-'it']. (Matthew 26:14-16)
I didn't visit those in the hospital, neither those distressed in prison, (Matthew 25:43)
neither the diabetic with the Metformin, rather shed innocent blood, (Proverbs 6:16)
gave them the silent treatment and acted like I never met Jesus, (Matthew 26:72)
a Peter denying Christ at least 3 times. For it I wept grievously, (Matthew 26:74-75)
paws with claws swiping credit card, for I once knew no limit like the very rich,
taking in what I had put out, getting a taste of my own medicine, (Galatians 6:7)
having sold what would mess up limbs, taking it all in like melonin,
to being blessed by the [Son/sun,] covered in the blood, my SPF 100. (Psalm 121:6, Matthew 27:25)
I should have taken in the homeless like kittens from rescue missions,
the sower who sowed good seed, not the one snapping the neck of pigeons, (Matthew 13:3)
but throw them a worm that they may go back to their egg-filled nest and rest, (Matthew 15:32)
and catch them with they fall, not be the ostrich unmindful of who steps on them. (Job 39:15)
"If against God, by acting like adulteresses, if the land sins
and He stretch out His Hand against it to cut off its expected provision,
to send a whole famine through it, and to cut off from it both man and animal,
then even if these three men — Noah, Job, and Daniel were in it,
their righteousness could deliver only themselves", declares Heaven's President. (Ezekiel 14:13-14)